Music
"Music has the power of producing a certain effect on the moral character of the soul, and if it has the power to do this, it is clear that the young must be directed to music and must be educated in it."
Aristotle (384 - 322 BC)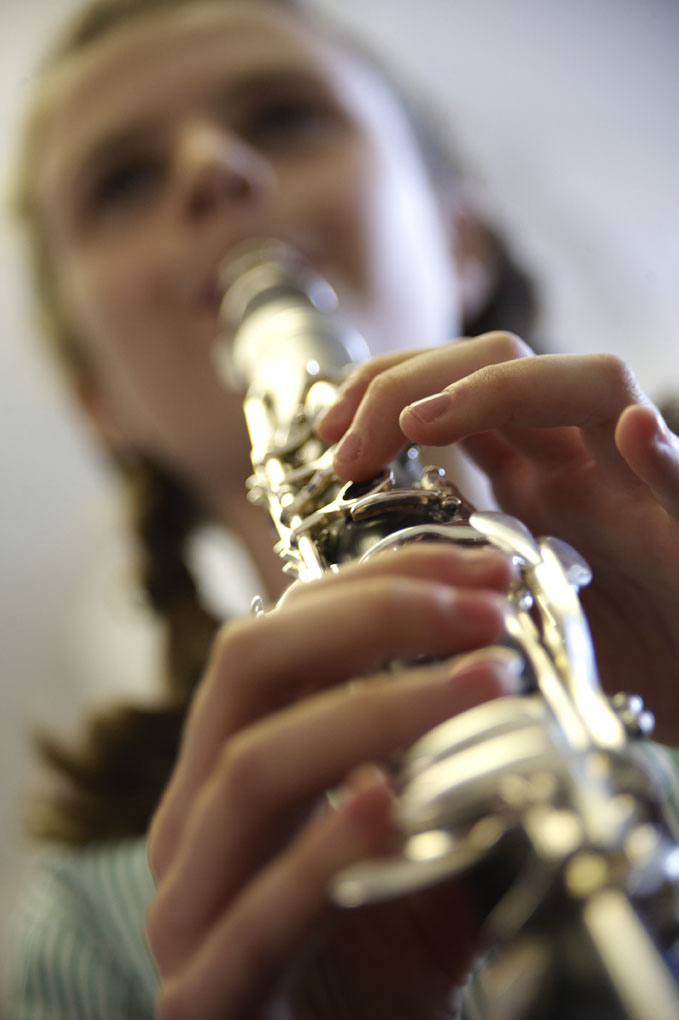 In Years 7, 8 and 9 the Music curriculum focuses on Listening and Appraising, Performing and Composing. All three elements overlap and many of the topics and tasks which are studied combine all three, rather than trying to isolate each one, as is the case in the GCSE and A Level courses.
Much of the work is of a practical nature and there is a lot of individual study and work in pairs. Whilst there is some content learning, much of the work is designed to foster individual skills, personal reactions and opinions.
During the course, students will gain an insight in to the main developments in musical history, the make up and development of the orchsestra and the main trends in popular music. They will also learn to read the basics of the Notation System used to write music; sometimes to follow composers' intentions, sometimes in a performance situation and sometimes in order to express their own compositional intentions.
The GCSE Music course requires students to have the ability to play an instrument or sing to at least Grade 2 standard and read music. The aims of the course are to greatly improve students' performance skills; see how music is constructed from initial ideas through to the finished product; be able to analyse music in a variety of styles and discover the social and historical context in which music has been composed over the last 400 years.
The performance skills gained will give students confidence in playing to an audience; useful for those intending to pursue careers in drama and law as well as music.
Instrumental Music
The School offers private lessons on a variety of instruments and subjects: violin, viola, cello, double bass, guitar, bass guitar, recorder, flute, clarinet, saxophone, trumpet, trombone, tuba, French horn, drum kit, orchestral percussion, piano, jazz piano, voice, theory of music and composition.
Staff
Helena McKillop, Head of Music, joined the School in September 2011, having trained at the Birmingham Conservatoire, Sweelinck Conservatoire in Amsterdam and the University of Central England.
James Crackle teaches flute and recorder and A Level Music. After graduating he continued his research with a Masters. Mr Crackle has performed in a variety of ensembles, including orchestras, wind quintets, wind bands, instrumental and vocal choirs and flute quartets.
Jamie Cranfield studied at Reading University, Thames Valley University and The Guitar Institute in London and has played guitar for 25 years. Mr Cranfield teaches a variety of styles including Classical, Jazz, Rock, Country and Blues.
Steve Hamper studied percussion at The Royal Military School of Music, Kneller Hall and currently directs the Percussion Group and Jazz Ensemble as well as teaching percussion.
George Haynes is currently a lay clerk in the choir of Peterborough Cathedral. He graduated from the University of York with a degree in music and has sung in the professional choirs of York Minster and Wells Cathedral. He has a wealth of experience conducting, singing and accompanying, most recently he began directing local chamber choir, 'St Peter's Singers'.
Martin Jewkes teaches piano, saxophone and clarinet. He teaches a variety of styles including Jazz, Rock, Pop and Classical.
Anthea McAuliffe studied under Howard Davies and has over 10 years' experience in teaching the violin to all ages. Mrs McAuliffe maintains an active professional performing career through her post as founder member and leader of the Intermezzo String Quartet.
Louise Reid (nee Marsh) began her professional career as an organist and church musician. She read music at Oxford, as the Organ Scholar of Lincoln College, and subsequently studied organ and choral conducting at The Royal Academy of Music. She also held the post of Organ Scholar at Westminster Abbey. Louise studied singing at The Royal Academy of Music and was a member of The Schola Cantorum of Oxford, Westminster Abbey Special Service Choir and Philharmonia Voices.
Ian Stafford has taught piano at The Peterborough School for many years as well as accompanying the Prep Choir. Mr Stafford is a member of The Cathedral Singers at Peterborough Cathedral.
Emily Smith teaches cello and piano and accompanies ballet classes, choir and this year's musical production. She studied piano and cello at the Royal College of Music in London. She also accompanies ballet externally and often plays with the Intermezzo String Quartet.
Senior School Extra Curricular Music Groups
The extra curricular life of the Music Department is vibrant, providing many valuable opportunities for those studying music at all levels to experience the excitement of live performance. The ain of the department is to provide an opportunity for as many pupils as possible to perform in an ensemble of some kind apropriate to their ability.
Orchestra conducted by Mrs McKillop is open to players of Grade 2 and above. They perform a wide variety of music from classical to the more contemporary.
Senior and Junior Chapel Choirs are led by Mrs Reid. The Senior Chapel Choir welcomes pupils from Years 10-13. They sing at the regular Thursday morning Eucharist in the Chapel and have opportunities to represent the School at a number of outside engagements. The Junior Chapel Choir is open to boys and girls from Years 5-9. Pupils are welcome who want to develop their voices and musicianship. No previous singing experience is necessary.
Jazz Ensemble is a small group of very able musicians who rehearse once a week under the directorship of Mr Hamper.
Consort Group takes place on Fridays and concentrates on music from the Baroque and Early Classical periods.
Guitar Ensemble is a small group of guitarists who meet once a week and work on a variety of pieces mostly arranged by Mr Cranfield who runs this ensemble.
Star Strings, Junior and Senior String Ensembles and the Westwood String Quartet cater for all levels of string playing. They explore fun and challenging repertoire with coaching from Mrs McAuliffe and Miss Smith.
Traverso is the name of the flute ensemble who rehearse on Fridays after School. Mr Crackle rehearses the students and arranges the music to suit the different abilities within this ensemble.
Brass Ensemble meet every week; they recently performed a fanfare for distinguished guests during Speech Day at Peterborough Cathedral.
Percussion Ensemble is led by Mr Hamper and have delighted audiences at a number of concerts with their skilled stick work.
Senior Soul Band, Junior Soul Band and Baby Band are run by Mr Cranfield. They perform at a number of concerts and play a wide variety of music as well as giving pupils the opportunity to perform music of their own choice. Pupils are also encouraged to form their own groups.
Resources
The Music Department is located in the main building. It comprises one teaching room, equipped with Apple MACs, keyboards, tuned and un-tuned percussion and a piano. There are four practice rooms. Music software available is Sibelius 7 and Garage Band.